Monica. B Jewellery | Our Story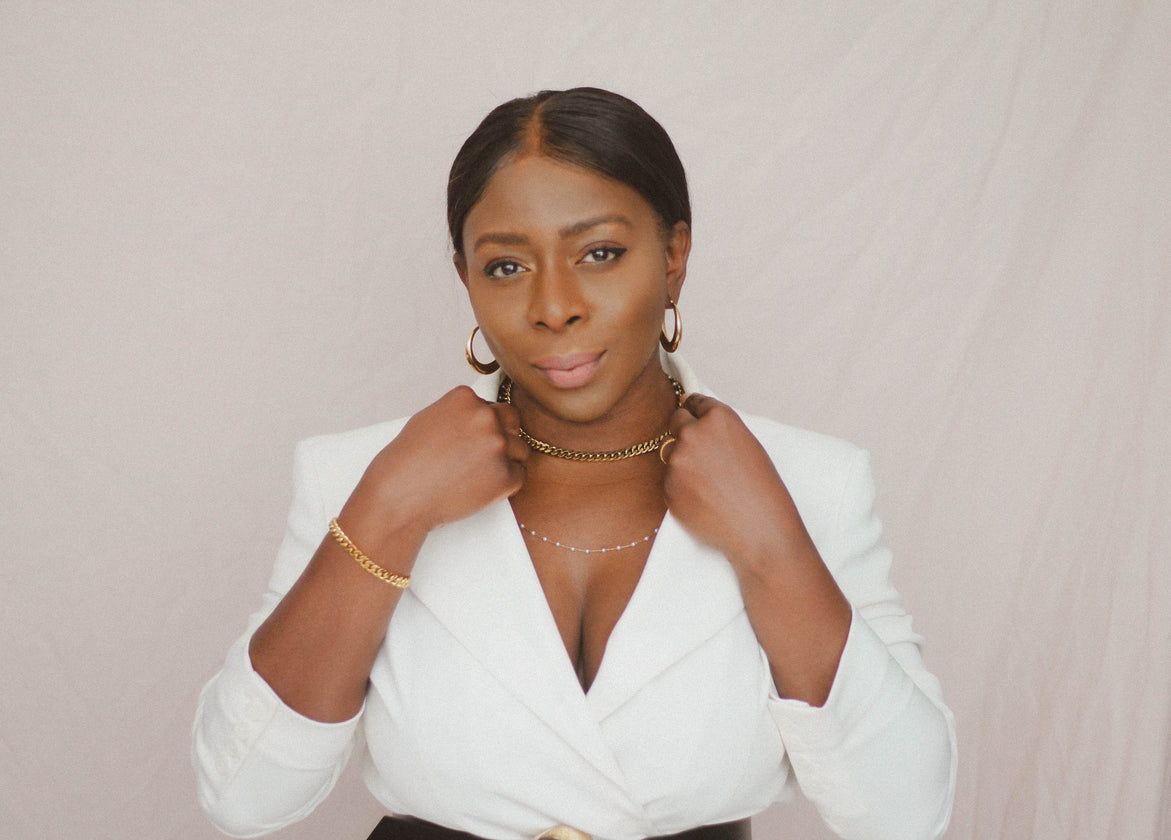 By and large, jewellery serves as signifiers —through which you can tell a story about its wearer. For many years, people have adorned themselves with expensive jewellery and offered them as gifts to royalties because of their value for both the giver and the receiver.
Fashion accessorizing and playing dress-up was a lovely part of my childhood, even though I couldn't afford it at the time.
Fast forward to the early to mid-nineties when I could buy myself things. High street, fast fashion, and trendy clothes were the IT things girls of my age wore. Jewellery and accessories were a huge part of the composition, from waist belts with big buckles to berets and whatever trend was swooshed past.
Growing up, jewellery as a form of self-expression was a language I learned from my mother.
Pictured: Jewellery from early - mid 90's gifted to me by my Mother for my wedding. 
They say that "You can't cry on a diamond's shoulder, and diamonds won't keep you warm at night, but they're sure fun when the sun shines." And this was true about my Mom's jewellery as I wake up every day to reflections of gold-plated lines on my face, using the sun as its brush.
Pictured: Jewellery gifted to me by my Mother from circa early 2000's
She especially indulged in expensive jewellery, gold from jewellers from different parts of the world. Sometimes she wore jewellery more expensive than her entire outfit. I admired her for this and thought that I'd buy myself expensive jewellery when I grew up.
Pictured: Jewellery from late 90's gifted to me by my Mother
In saying that, I thought wearing expensive things was an age thing. Maybe you have to be of a certain age, have a glamorous occasion, or perhaps be a celebrity to wear expensive jewellery.
However, this ideology started to change as I grew older, and my appreciation for more wondrous things started to develop, and so did my taste. But everyone has a budget, and mine didn't stretch very far. Yet high-quality jewellery was still inaccessible, from pricing to designs and styles offered.
Because of this, I stuck to the high street jewellers, which offered trendy designs that weren't sustainable and were of low quality; they often fell apart with awful fading, tarnish, and corrode - You would be lucky not to have allergic reactions.
I realised there was and still is a gap to be filled between high-quality jewellery with trendy, fantastic, 'everyday' pieces and elitist pricy high-end brands; that's where we come in.
Born to bridge the gap between 'fashion' and 'fine' jewellery, Monica. B is where both worlds meet. Our aim is to provide fashionable, beautiful, high-quality yet affordable jewellery.
I believe that luxury is a state of mind, and jewellery should not only be for a particular class of people or special occasions only.
Wearing good quality or expensive jewellery comes from self-appreciation, knowing that you deserve more and are worth much more. It's nothing to do with age, and there is something for everyone for different occasions.
Monica. B offers high quality at affordable prices. Ranging from classic staples like the Figaro Necklace to occasional pieces like the Vrouw Set or perhaps more unique pieces like the Peony Necklace. You will also find high street equivalent pieces like the Artemisia Earrings, but with better quality, which means they are much more durable and sustainable; you can wear them every day for an extended period if you take care of them appropriately.
These pieces were crafted to inspire self-love within the true essence of their wearer.
By engraving each piece of jewellery with sparkling elements, and personalized symbols with charming and shimmering look, each piece of jewellery carries a heartfelt message to the modern woman donning the jewellery - her essence - her story.
I hope you get the chance to express your authentic story through these pieces of jewellery. Monica B offers you the chance to be transported to a wonderland of self-love.
"Jewelry is a very personal thing... it should tell a story about the person who's wearing it." What's your story?
Lots of love from Monica. B x